Expertise In Commercial Construction
How we make it easier for Commercial Property Owners, Property Management Firms, and leases/business owners through proactive planning, budgeting and project execution.
When it comes to the commercial property management market, roofing contractors with specialized expertise play a crucial role in ensuring the safety and integrity of the buildings they service. Advocate Roofing possesses a deep understanding of the unique challenges and requirements associated with commercial shingle roofing systems. With their extensive knowledge and experience, they can effectively assess, repair, and maintain roofs on large-scale commercial properties.
One key area of expertise for roofing contractors in the commercial property management market is the ability to conduct comprehensive roof inspections. Advocate Roofing is well-versed in identifying signs of damage, such as leaks, cracks, or deteriorated materials, and can quickly determine the appropriate course of action. Our expertise extends beyond identifying problems, as they possess the knowledge to recommend and implement tailored solutions that align with the specific needs and budget of the property owner or manager. Whether it's conducting regular maintenance, performing repairs, or overseeing roof replacements, Advocate Roofing can ensure that the roofing systems remain in optimal condition, reducing the risk of costly damage and disruptions to business operations.
Furthermore, Advocate Roofing in the commercial property management market understands the importance of adhering to industry regulations and standards. We stay up to date with the latest building codes and guidelines, ensuring that the roofs they work on comply with all relevant safety and structural requirements. This expertise is essential for property managers and owners who must navigate complex compliance issues while striving to maintain the value and functionality of their assets. With our in-depth understanding of roofing materials, installation techniques, and safety protocols, these contractors offer invaluable expertise that promotes the longevity and performance of commercial roofing systems, providing peace of mind to property managers and owners alike.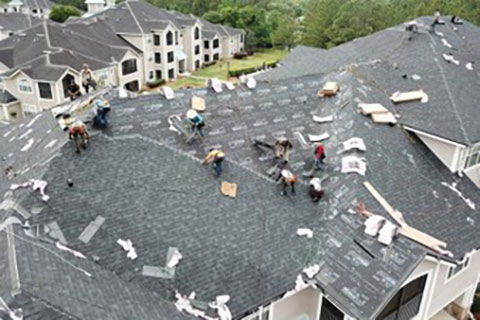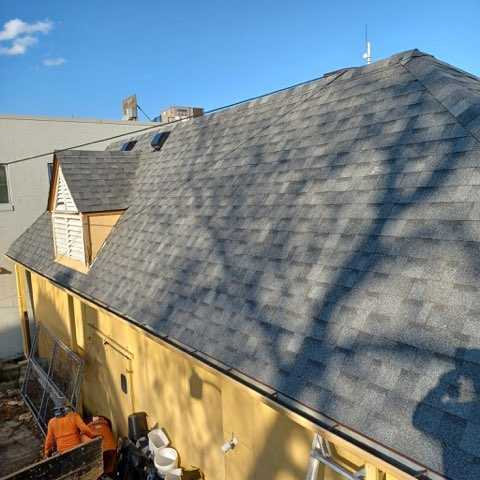 The process for both Storm Damage and Traditional Replacement is the same.

Frequently Asked Questions – Commercial
Q: How does your ten - year proven track record of excellence set you apart as a preferred partner?
Our company's track record includes over 16,000 projects. We utilize this
expertise to ensure we exceed your expectations.
Q: Can you elaborate on your expertise in budgeting, planning, and scheduling and how it benefits your clients?
We work with clients who have a variety of different requirements, programs, and systems. Our industry expertise enables our clients to save time and resources when planning and executing their projects.
Q: What specific measures do you take to ensure ongoi ng commitment to providing top - quality services?
We are committed to safety. In the last five years we have had zero OSHA incidents. Our commitment to quality starts with safety. From there we utilize best practices to ensure your project meets or exceeds your needs.
Q: How does your experience working with vendor compliance groups, including Net Vendor, RMIS, Vendor Cafe, and Real Page Vendor Credentialing, enhance your partnership potential?
Familiarity with Compliance Processes: Working with vendor compliance groups, such as Net Vendor, RMIS, Vendor Cafe, and Real Page Vendor Credentialing, gives our customer partners a deep understanding of compliance processes and requirements. This familiarity enhances partnership potential by ensuring that all parties involved adhere to necessary standards, regulations, and best practices.
Q: How do your professional team members ensure commercial projects are completed on time?
We work with our suppliers, partners, and agencies to coordinate and schedule. Having all parties on the same page provides peace of mind to our customers.
Q: How do you incorporate customer feedback and continuous improvement into your processes to maintain your preferred partner status?
We ask for ongoing feedback Post-project there is always a review and conversation with our team and our customer to ensure that if there were any items during the project that needed to be reviewed that they are built into our best-in-class program.
Contact Us About Your Next Project
Understanding the Insurance Process Get the Professional Help You Need