Blog and Education
At Advocate Construction, we often asked about reviewing the home's entire exterior.   When a homeowner is considering a significant facelift for their residence, we've found that sharing some insights provides a good perspective.  Every geographic area has some nuances.  If you have specific questions, please get in touch with your local Advocate team member.
Complete Exteriors
Selecting the siding of your home or commercial building is an important decision. When choosing between siding types, some clients start by envisioning their finished product. There are many styles to choose from when it comes to siding, and each one presents a different aesthetic.
There is, however, more to think about than appearance. When selecting your siding material, durability and maintenance are also important factors to consider. Why? The exterior of your property can take a beating. Windstorms. Hailstorms. Extreme weather, hot and cold. Choosing siding that can survive the elements and endure regional climate changes is essential.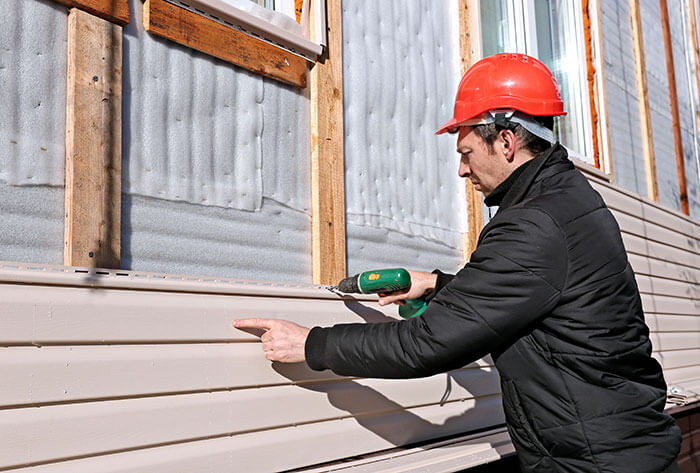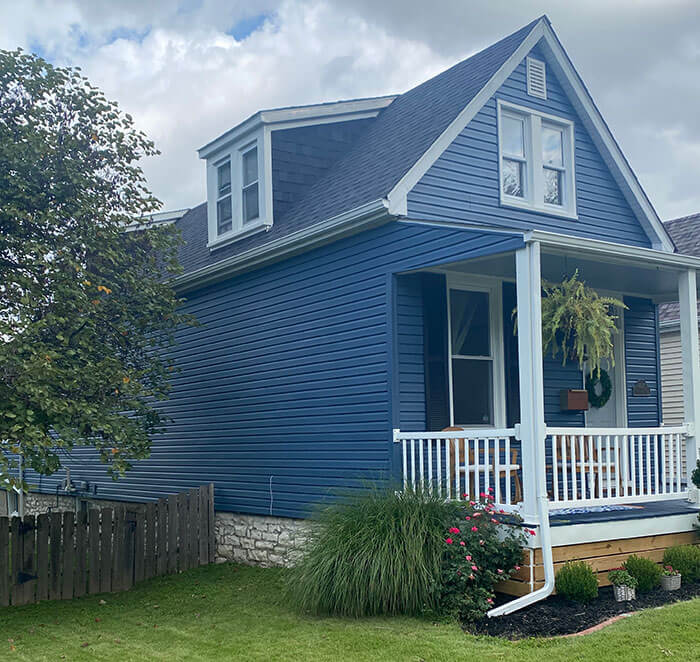 Partnering with a company can help you choose suitable options for your home. While proper care can maximize the longevity of your siding and roofing, it's important to understand what that upkeep entails.
Siding Types
When starting a complete exterior makeover, choosing your siding is crucial. It's not just about aesthetics (although looks matter, too). It's also about price, durability, longevity of the material, and proper fit.
Here are some of the most popular types of siding:
Vinyl Siding
When you think of siding, vinyl siding may come to mind first. It is the most cost-effective way to protect your home or commercial property from the elements, allowing you to save on energy costs. One of the best features of vinyl siding is that it's maintenance-free. You'll never have to paint again!
But as with any material, vinyl siding has its pros and cons.
Here are some cons to consider…
While vinyl siding is a cost-effective way to protect your property, it could potentially be viewed as a lower-quality material by future buyers. If your home has some interesting architectural features, this style runs the risk of covering them up.
One of the reasons why vinyl is so durable is because it expands; this means it needs to be hung loosely. However, this expansion also means wind can get underneath the vinyl sheets and lift a panel from the wall. Windblown debris and intense hail can puncture vinyl as well.
James Hardie  (Fiber Cement Siding)
This fiber cement siding is engineered to stand up to the elements. Fiber cement is a composite material of cellulose, wood fibers, sand, and water. It is such a durable product that it mimics the look and design of cedar wood—without the rotting, cracking, or splitting.
While less common or popular than vinyl siding, it is still found in nearly 5.5 million homes. One of fiber cement siding's most substantial benefits is that it is commonly warranted for 50+ years.
James Hardie is known for its environmental friendliness. It has natural materials, as opposed to plastic or other artificial materials, common in different siding options. While the material has many benefits, it's important to think about installing Hardie board siding. It can take longer, and it's more labor-intensive than other options. In some geographies, it has additional service costs associated with it. But working with a quality construction company can give you the peace of mind that comes with proper installation.
Even better, its upkeep is low maintenance.
LP Smartside (Engineered lap siding)
LP Smartside is an engineered lap siding that offers the warmth and beauty of traditional wood, along with the durability of engineered wood.
This siding is manufactured to strengthen and resist fungal decay and termite damage.
Two of the most significant benefits of LP Smartside are its durability and impact resistance. You won't need to worry about dents from hail or misdirected baseball pitches.
For many homeowners, the versatility of LP Smartside is also a significant benefit; there are many color options.
Cultured Stone by Boral
Give your home or commercial property a new look with Cultured Stone by Boral.
Utilizing Cultured Stone on the exterior of your building can completely transform its look.
It is a manmade, manufactured stone veneer that consists of a concrete mixture. It is cast in flexible molds and hand-colored with iron oxide pigments to resemble natural stone.
The possibilities with Cultured Stone are endless. Whether you are hoping to have a classic or modern look, Cultured Stone can make it happen.
In addition to its aesthetic appeal, the stone is nearly impervious to weather.
Gutters
Are you looking for gutters that can complement your siding?
Seamless gutters are continuous gutters made onsite, typically consisting of aluminum, copper, painted steel, or zinc.
Since these gutters don't have seams, the chance of leakage is exponentially reduced. Additionally, they are easy to maintain and durable, as they typically only have joints at the corners where they wrap around the roof.
Seamless gutters are made on-site to match your color. Fascia leaf guards can be added to your new gutters as well.
Shingle Types
Asphalt shingles tiles – Typically the most affordable roofing material, yet highly resilient. Asphalt shingles can last upwards of 30 years when properly installed by a contractor. They are energy efficient and reliable, making them popular for many residential roof applications.

Wood shingles tiles – Can outperform asphalt shingles and last for decades. Wood shingles can add personality and charm that may not be as easily achieved with other roof tile types.  The con to a wood shingle is the ongoing maintenance that this system often requires.

Slate roofing tiles – Offer superior water/freezing resistance compared to other roofing materials. The con to slate roofing tiles is the cost.   This type of material often has significant color or tone variance.